Classic Car Museum
The VerHage collection began in 1969 when a '29 Plymouth was traded in on a new '69 Plymouth Fury III convertible at our then Chrysler Plymouth franchised dealership. The ensuing MOPARS added in the early years were stored in the garages of various rental properties owned by Lloyd VerHage near the dealership. In 1982, the collection outgrew this arrangement and a new 50' by 64' metal pole building was built that held a dozen cars comfortably along with some space for detailing and reconditioning. By 1990, the VerHage collection had outgrown this structure, requiring some storage in other locations as the collection continued to expand. The larger museum was built in early 2007 to display the collection of 30 plus MOPARS and in 2014 it was sold to Holland BPW for their new energy park. In late 2014, VerHage expanded the original 50' by 64' pole building to 100' by 64' to accommodate the 27+ MOPARS in the collection. In early spring 2015, the finishing touches on the museum exterior were completed and a ribbon cutting took place with the West Coast Chamber of Commerce.
The VerHage MOPAR Museum car show event has had a variety of special guests and vehicles over the years including Galen Govier in 2012 and the Silver Bullet '67 GTX of Jimmy Addison (owned by Harold Sullivan) in 2005. In March of 2006, VerHage sold a vehicle from their collection, a '34 Air Flow CX, to comedian Jay Leno that now is on display in Jay Leno's garage. See www.JayLenosGarage.com for more info. In 2018, the show featured Futureliner #10 on display that was restored locally in Beaverdam, MI
Results for 28th Annual MOPAR Museum All Makes Car Show
The 2022 event at the VerHage MOPAR Museum was held on Thursday, September 22. A total of $706 combined was raised. The Holland Gateway Center will receive $346 and Grant Me Hope will receive $360 – thank you to all participants. Sixty-six participants signed in this year, which was an increase from last year's 28. This was a weak turnout again due to the cold temperature, wind and a threat of rain.
The food "truck" vendor at this year's event was Catering by Chef Orlando & Co. We appreciate their support of Grant Me Hope at the 2022 event.
Award Winners received an engraved thermal cup.
Stan Windemuller Memorial Award = 1961 VW Deluxe Sunroof, Jeremy Sturgeon
Lloyd VerHage Memorial Award = 1971 AMC Javelin Mark Donahue Edition, Tom Guarr
Best of Show = 1968 Dodge Charger RT Hemi, Dan Krueger
The 29th Annual VerHage MOPAR Museum All Makes Show will be Thursday, September 21 from 5-8pm.
Please send any comments or suggestions about the event to norm@VerHageMotors.com or office@VerHageMotors.com.
Thank you to everyone who volunteered and contributed, an enjoyable evening was had by all including the VerHage family.
Norm & Blaine VerHage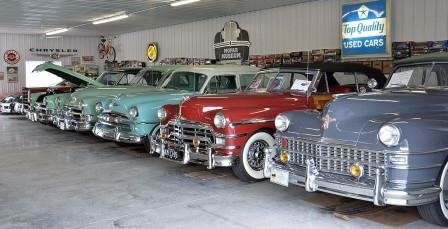 | | | | | | |
| --- | --- | --- | --- | --- | --- |
| YEAR | MODEL | ENGINE | H.P. | BODY | COLOR |
| 1929 | Plymouth Deluxe Roadster Coupe | 175 | 45 | 2-door | Cream |
| 1934 | DeSoto SE Airflow Sedan – on loan at the Gilmore Car Museum, Hickory Corners, MI | 241 | 100 | 4-door | Gray |
| 1949 | Chrysler T&C Woody | 323 | 135 | Conv. | Red |
| 1953 | Chrysler Imperial | 331 | 180 | 2-door HT | Green |
| 1964 | Plymouth Cuda | 273 | 180 | Fast Back | Gold |
| 1964 | Plymouth Fury | 383 | 330 | Conv. | Black |
| 1966 | Plymouth Cuda | 273 4 bbl | 235 | Fast Black | Silver |
| 1967 | Plymouth Cuda Fastback | 383 4 bbl | 280 | Fast Back | Bronze |
| 1967 | Plymouth GTX Convertible | 440 | 375 | Conv. | Red |
| 1968 | Plymouth Cuda | 340 | 275 | Fast Back | Gold |
| 1968 | Plymouth Cuda | 340 | 275 | Conv. | Red |
| 1969 | Plymouth Cuda | 440 | 375 | Fast Back | Yellow |
| 1969 | Plymouth Cuda | 340 | 275 | Conv. | Yellow |
| 1970 | Chrysler 300 | 440 | 350 | Conv. | White |
| 1970 | Plymouth GTX | 440 | 375 | 2-door HT | Blue |
| 1970 | Plymouth Cuda - Barn Find | 340 | 390 | AAR 2-dr | Blue |
| 1983 | Plymouth Scamp | 2.2 | 84 | PUT | Black |
| 1992 | Dodge Viper- On loan to the Gilmore Car Museum spring 2023 | 488 | 460 | Conv. | Red |
| 2000 | Plymouth Prowler | 3.5 | 250 | Conv. | Black |
VerHage Auto Sales
---
343 E 8th Street
Holland, MI 49423
Phone (616)396-3589
Fax (616)396-2596

Hours
---
| | |
| --- | --- |
| Monday: | 8:30 AM - 6:00 PM |
| Tuesday: | 8:30 AM - 6:00 PM |
| Wednesday: | 8:30 AM - 6:00 PM |
| Thursday: | 8:30 AM - 6:00 PM |
| Friday: | 8:30 AM - 6:00 PM |
| Saturday: | 9:00 AM - 1:00 PM |
| Sunday: | CLOSED |
Service Hours
---
| | |
| --- | --- |
| Monday: | 8:00 AM - 12:00 PM |
| Tuesday: | 8:00 AM - 12:00 PM |
| Wednesday: | 8:00 AM - 12:00 PM |
| Thursday: | 8:00 AM - 12:00 PM |
| Friday: | 8:00 AM - 12:00 PM |
| Saturday: | CLOSED |
| Sunday: | CLOSED |