About Us
Our Professional Roots
VerHage Motors in West Michigan began in 1914 by Henry VerHage at age 28. In 1925, he became a franchised Chrysler Corporation dealer in Hudsonville, MI. He built a new bi-level brick dealership which still stands today on 32nd Street across from the 1st CRC Church.
In 1948, Henry VerHage, along with his 3 oldest sons Dick, Harold, and Henry Jay, built an all new dealership building on the newly divided highway M21. Lloyd joined the family business in 1957 after graduating from HCHS, Calvin College, and the University of Michigan plus 2 years of military service.
On October 16, 1963 Lloyd VerHage opened VerHage of Holland Incorporated after purchasing the Plymouth Valiant and Imperial franchises from Elmer Nienhuis. Lloyd then bought and completed his own Chrysler dealership in Holland, MI at the northwest corner of Chicago Drive and 8th Street and it is still there some 50 years later. Lloyd and his new dealership staff placed an emphasis on merchandising used cars not seen in the Hudsonville location and the business grew quickly.
In 1971, Lloyd's sons, Blaine and Norm, both began working as wash boys, then later both worked in service and sales before becoming company officers and stockholders in 1986. Today, Norm is the Dealer Principal and General Manager.
In 1999, Chrysler and Daimler merged to form Daimler/Chrysler LLC and position themselves for global reach and growth of both companies' products.
In May of 2000, VerHage Motors purchased vacant property north of 7th street for future expansion from Mammoth.
Between 2000 and 2013, Blaine's two sons Matthew and Mitchell, 4th generation VerHages, worked for VerHage Motors both in the detail shop and service department.
In March 2003, the renovation and expansion of the dealership's showroom & customer lounge were completed including upgrades to all utilities to better serve customers and be more energy-efficient.
In 2007, the "MOPAR car museum" was constructed on the dealership's property at 341 E. 7th St. It contains some 34 Chrysler built vehicles starting with its earliest being a 1929 Plymouth rumble seat coupe and it's latest being a 2009 Chrysler convertible.
In June 2009, Chrysler left 789 dealers behind in bankruptcy including VerHage Chrysler and the other dealer franchisees in the Holland market. VerHage Motors continued in business as a used car dealer with the addition of consignment and used Harley Davidson Motorcycles.
March 2011, VerHage Motors became a Mitsubishi Motors of America franchised dealer purchasing the local franchise from Crown Motors.
September 2021, VerHage Mitsubishi became VerHage Auto Sales.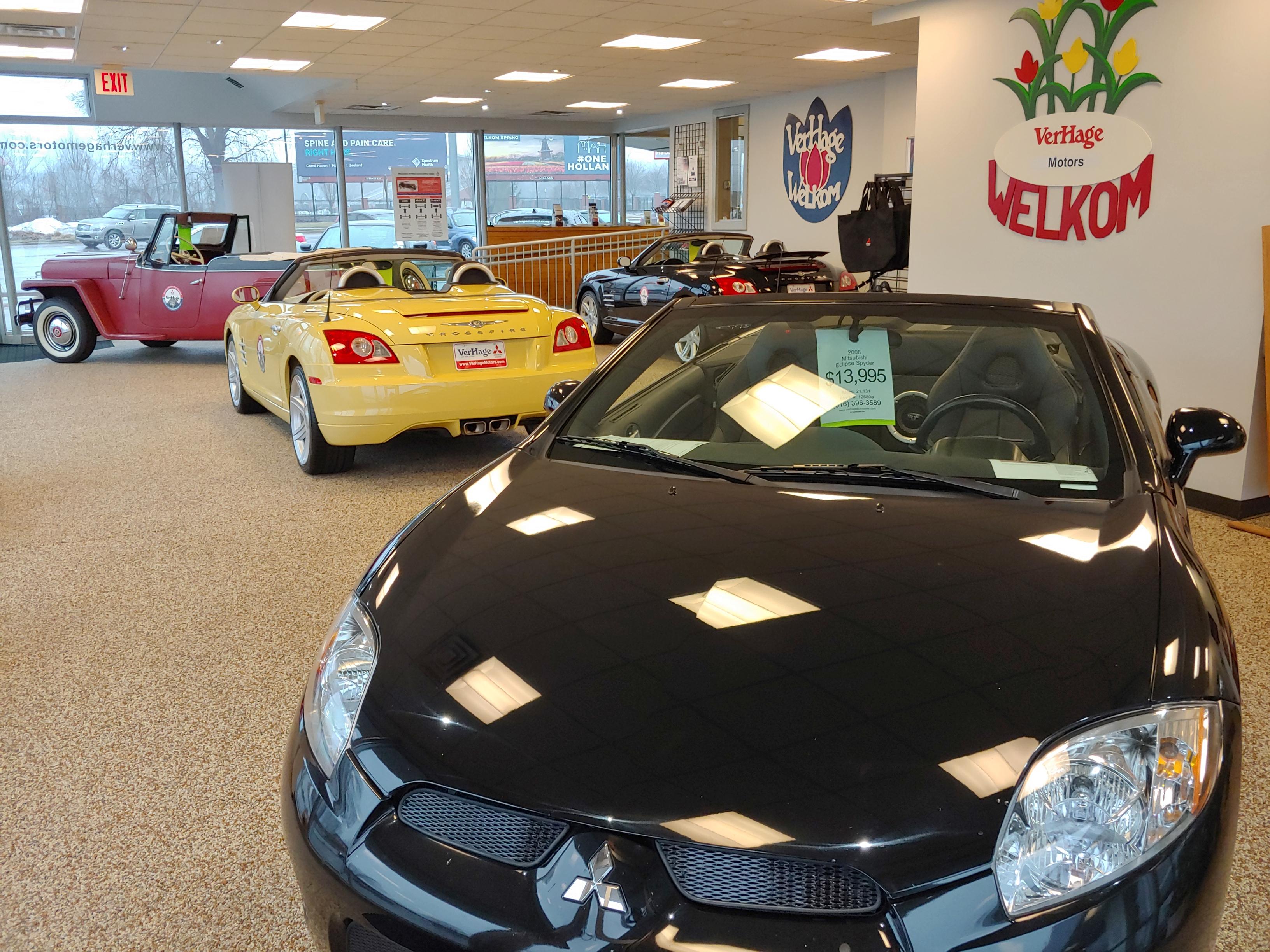 VerHage Auto Sales
---
343 E 8th Street
Holland, MI 49423
Phone (616)396-3589
Fax (616)396-2596

Hours
---
| | |
| --- | --- |
| Monday: | 8:30 AM - 6:00 PM |
| Tuesday: | 8:30 AM - 6:00 PM |
| Wednesday: | 8:30 AM - 6:00 PM |
| Thursday: | 8:30 AM - 6:00 PM |
| Friday: | 8:30 AM - 6:00 PM |
| Saturday: | 9:00 AM - 1:00 PM |
| Sunday: | CLOSED |
Service Hours
---
| | |
| --- | --- |
| Monday: | 8:00 AM - 12:00 PM |
| Tuesday: | 8:00 AM - 12:00 PM |
| Wednesday: | 8:00 AM - 12:00 PM |
| Thursday: | 8:00 AM - 12:00 PM |
| Friday: | 8:00 AM - 12:00 PM |
| Saturday: | CLOSED |
| Sunday: | CLOSED |